Spinoza's dual View on human Freedom
Palavras-chave:
Un/official concept of freedom. Determinism. Descriptiveness. Prescriptiveness. Activity. Objective-ontological level. Subjective-practical level. Substance monism. God.
Resumo
A questão da liberdade no spinozismo talvez seja menos controversa, porque podemos encontrar nas obras de Spinoza muitos lugares onde ele descreve a liberdade de Deus e o homem como uma ação determinada pela própria natureza. Deus é absolutamente livre e o homem pode alcançar sempre um grau mais elevado de liberdade. Significa que ele é menos afetado por coisas externas e as ações se originam de sua natureza e são explicadas por ele. O determinismo estrito de Spinoza não permite liberdade no sentido tradicional de capacidade de escolher entre mais opções e tal liberdade pode ser rotulada apenas como ficção, porque todo evento no mundo, incluindo o comportamento humano, é predeterminado desde a eternidade. Mas, é interessante observar que Spinoza realmente precisa exatamente da liberdade no sentido de capacidade de escolha. Em outras palavras, Spinoza, de alguma forma, obriga o homem a procurar bens que são realmente úteis para ele e, indiretamente, para outros homens: o homem deve agir de acordo com os ditames de sua razão e seguir o modelo da natureza humana. O ponto é que "deveria" pressupõe "pode". A questão crucial nessa história é a que diz respeito à prescritibilidade ou descritivo de sua ética. Estritamente falando, a prescritibilidade não se encaixa em seu sistema geral, mas Spinoza, na verdade, promove a prescrição e pressupõe que os homens agirão como livres no senso de capacidade de escolha. Em outras palavras, ele trata esse problema de duas maneiras diferentes: no nível objetivo-ontológico e subjetivo-prático. No primeiro nível, há (e só pode ser) descritividade e liberdade no sentido de agir por sua própria natureza, mas Spinoza obviamente percebeu que mais homens aceitarão e realizarão na prática suas sugestões de como viver se ele promover a prescritibilidade e a liberdade no sentido da capacidade de escolha. É por isso que ele, implicitamente, promove a prescrição e a liberdade como capacidade de escolha. Nesse sentido, podemos falar sobre o conceito oficial e não oficial de liberdade no spinozismo.
Abstract
The issue of freedom in Spinozism is maybe one of less controversial because we can find in Spinoza's works many places where he describes freedom of God and man as action determined by proper nature. God is absolutely free and man can achieve always higher degree of freedom. It means that he is less affected by external things and actions originates from his nature and is explicable by it. Spinoza's strict determinism does not allow freedom in traditional sense of capability of choosing among more options and such a freedom can be labeled only as fiction because every event in the world, including human behavior, is predetermined from eternity. But, it is interesting to see that Spinoza actually needs exactly the freedom in sense of capability of choice. In other words, Spinoza in some way obliges man to seek for goods that are really useful to him and, indirectly, to other men: man should act according to his reason's dictates and should follow model of human nature. The point is that "should" presupposes "can". The crucial issue in that story is the one regarding prescriptiveness or descriptiveness of his ethics. Strictly speaking, prescriptiveness does not fit within his overall system but Spinoza actually promotes prescriptiveness and presupposes that men will act as being free in sense of capability of choice. In other words, he treats this problem on two different ways: on objective-ontological and subjective-practical level. On former level, there is (and only can be) descriptiveness and freedom in sense of acting by own nature, but Spinoza obviously realized that more men will accept and realize in practice his suggestions how to live if he promotes prescriptiveness and freedom in a sense of capability of choice. That is why he, implicitly, promotes prescriptiveness and freedom as capability of choice. In that sense, we can speak about official and unofficial concept of freedom in Spinozism.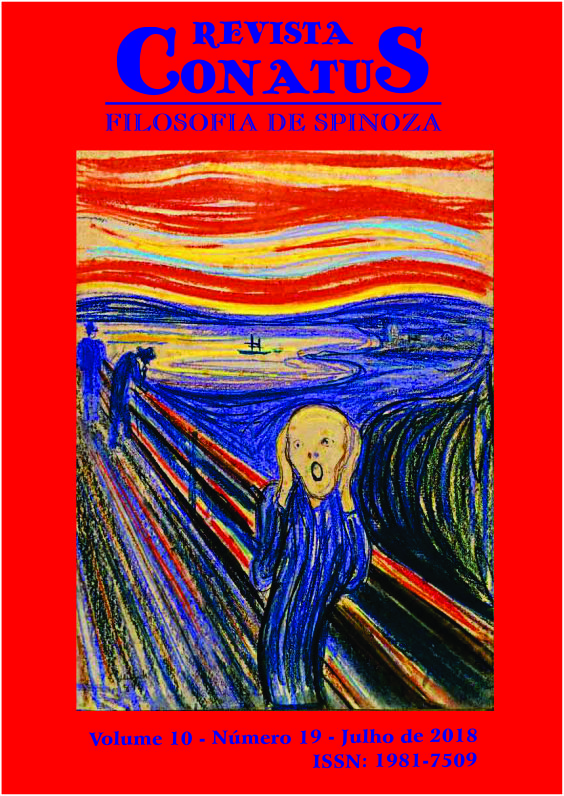 Arquivos adicionais
Como Citar
Fridl, M. (2019). Spinoza's dual View on human Freedom. Revista Conatus - Filosofia De Spinoza (ISSN 1981-7509), 10(19), 41–58. Recuperado de https://revistas.uece.br/index.php/conatus/article/view/1616