RESISTÊNCIA CIVIL E JOGOS DE GÊNERO. FRANÇA-ALEMANHA-BOLÍVIA-ARGENTINA. (SEGUNDA GUERRA MUNDIAL - ANOS 1970-1980)
Palavras-chave:
jogos de gênero, América Latina, ditaduras, mulheres, Segunda Guerra Mundial
Resumo
A partir de um estudo comparativo de quatro movimentos de resistência civil envolvendo mulheres, na Europa Ocidental, durante a Segunda Guerra Mundial e no Cone Sul durante as terroristas ditaduras militares das décadas de 1970 e 1980, o autor mostra como essas formas de disputa participam dos jogos de gênero. Aponta como foi fundamental o contexto histórico para a compreensão do desenvolvimento desses movimentos de protesto e observa que os indivíduos e organizações, que os impulsionaram e eventualmente os estruturaram, mobilizaram e representaram mitológicas sobre as mulheres, permitindo-lhes intervir e atuar no público espaço, porque estavam em sintonia com os valores defendidos pelas ditaduras. Dependendo das condições culturais, a participação nesses movimentos de protesto influenciou no questionamento das identidades de gênero pelas participantes.
RÉSUMÉ
À partir de l'étude comparative de quatre mouvements de résistance civile impliquant des femmes, en Europe occidentale pendant la Seconde Guerre mondiale et dans le Cône sud sous les dictatures militaires terro ristes des années 1970-1980, l'auteur montre en quoi ces formes de contestations participent des jeux de genre. Tout en constatant combien le contexte historique est fondamental pour comprendre le développement de ces mouvements protestataires, on observe que les individus et les organisations, qui les impulsèrent et éventuellement les structurèrent, mobilisèrent et mirent en représentation des mythologies de la femme leur permettant d'intervenir et d'agir sur un espace public fermé à toute contestation, car elles étaient en phase avec les valeurs défendues par les dictatures. Nonobstant, selon la conjoncture culturelle, la participation à ces mouvements protestataires a influé sur l'évolution de l'identité de sexe des participantes.
Mots clés: jeux de genre; Amérique latine, dictatures, femmes, Seconde Guerre mondiale.
ABSTRACT
In this comparative study of four movements of civil resistance involving women in Western Europe during World War II and in the cone of South America during the military dictatorship of the 1970's, the author shows how this form of contestation partake of the dynamics of gender. While realizing how much the his torical context is essential to understand the development of these movments of resistance, we observe that the individuals and the oraganizations which boosted them and eventually gave them a structure, mobilized and used mythological images of the woman, allowing them to take action in a public sphere closed to any kind of opposition, because these images corresponded with the values pro moted by various repressive regimes. Anyway, according to the cultural situation, the fact of joining in these movements of resistance also had an influence on the evolution of the gender identities of women activists.
KEY WORDS:  genre games; Latin America, Dictatorships, Women, World War II.
Referências
A REFERENCIA DO TEXTO TRADUZIDO ESTÁ ABAIXO
CAPDEVILA, Luc. Résistance civile et jeux de genre. Annales de Bretagne et des Pays de l'Ouest [En ligne], 108-2 | 2001, mis en ligne le 20 juin 2003, consulté le 02 mai 2019. URL: https://journals.openedition.org/abpo/1737; DOI: https://doi.org/10.4000/abpo.1737
REFERÊNCIAS BIBLOGRÁFICAS
Abuelas de Plaza de Mayo. Disponível: www.wamani.apc.org/abuelas.html. Acesso em 20/06/2001.
ANISTIA INTERNACIONAL - SECÇÃO DOS ESTADOS UNIDOS. Les « disparus »: Rapport sur une nouvelle technique de répression. Paris: Seuil, 1981.
ARDITTI, Rita. Searching for Life: The Grandmothers of the Plaza de Mayo and the Disappeared Children of Argentina. Berkeley: University of California Press, 1999.
AVAKOUMO VITCH, Ivan. Les manifestations de femmes 1940-1944. CHIRM, Paris, n° 45, p. 5-53, 1991.
BONAFINI, Hebe de; SANCHEZ, Matilde. Une mère contre la dictature. Paris: Descartes & Cie, 1999.
BOUSQUET, Jean-Pierre. Les folles de la place de Mai. Paris: Stock, 1982.
CARMARGO CRESPO, Artemio. Cronologia de una resistencia: Julio 1980. Mina, Siglo XX. Bolivia: Genève, éd. CETIM, 1982.
CHAPERON, Sylvie. Les années Beauvoir: 1945-1970. Paris: Fayard, 2000.
COMMISSION DES DROITS DE L'HOMME EN ARGENTINE. Argentine: dossier d'un génocide. Paris: Flammarion, 1978
COMISIÓN ARGENTINA POR LOS DERECHOS HUMANOS. Argentina: proceso al genocidio. Madrid: E. Querejeta, 1977.
CREMIEUX-BRILHAC, Jean-Louis. (org.). Les voix de la liberté: Ici Londres 1940-1944. Vol. 03 e 04. Paris: La Documenta tion Française, 1975.
DAUPHIN, Cécile; FARGE, Arlette (Ed.). De la violence et des femmes. Paris: Albin Michel, 1997
FERNÁNDEZ DE APONTE. Patricia, 1997. «¡Viva la huelga de hambre!». Historias… de Mujeres. Revista de la Coordinadora de Historia, La Paz, p. 83-87, 1997.
DE CHUNGARA, Domitila; Moema Viezzer. Si on me donne la parole. Paris: François Maspéro, 1978.
DE DERECHOS HUMANOS, Asamblea Permanente. Huelga de Hambre. La Paz, Bolívia, 1978.
DOUZOU, Laurent. La Résistance une affaire d'hommes ? In: ROUQUET, François, et VOLDMAN, Danièle. (org.). Identités féminines et violences poli tiques (1936-1946). Les Cahiers de l'IHTP, Paris, n. 31, p. 11-24, 1995.
FISHER, Jo. Mothers of the Disappeared. London: Zed Books, 1989.
GUERAICHE, William. Les femmes et la République: Essai sur la répartition du pouvoir de 1943 à 1979. Paris: Les éditions de l'atelier/Éditions Ouvrières, 1999.
GUILLON, Jean-Marie. La Résistance dans le Var: essai d'histoire politique. 1989. 1199 f. Tese (Doutorado) - Curso de História, Université de Provence, Provença, 1989.
GUZMAN-BOUVARD, Marguerite. Revolutionizing Motherhood: The Mothers of the Plaza de Mayo. Wilmington: SR Books, 1994.
HASANBEGOVIC, Claudia. La ideología militar y las relaciones de género en Argentina. L'Ordinaire Latino-américain, Toulouse, n. 183, p. 41-44, 2001.
Historia de las Madres de Plaza de Mayo – Conferencia pronunciada el 6 de julio de 1988 por Hebe de Bonafini. Disponível em: www.madres.org/historia/contenido/historia.html. Acesso em 20.06.2001
HISTORIAS DE MUJERES: Revista de la Coordinadora de Historia. La Paz, 1997.
HECHT, Ingeborg. Les murailles invisibles: Une famille allemande sous les lois raciales de Nuremberg. Paris: Éd. de l'aube, 1993.
KARDOFF, Ursula von. Le carrousel de la peur: Journal d'une Berlinoise (1942-1945). Paris: Grasset, 1964.
KEDWARD, Harry Roderick. À la recherche du maquis. Paris: Les Éditions du Cerf, 1999.
KNIBIEHLER, Yvonne. La révolution maternelle depuis 1945: Femmes, maternité, citoyenneté. Paris: Librairie Académique Perrin, 1997.
LAVAUD, Jean-Pierre. La dictature empêchée: La grève de la faim des femmes de mineurs. Bolivie 1977-1978. Paris: Éd. du CNRS, 1999.
LE JOURNAL du Dr Goebbels. Paris: Éditions Du Cheval Ailé, 1948
Madres de Plaza de Mayo. Disponível em: https://madres.org/ Acesso em: 18 out. 2021.
Madres de Plaza de Mayo – Linea Fundadora. . Disponível: www.derechos.org.ar/ddhh/madres/laura Acesso em 20.06.2001.
MATEAR, Ann. "Desde la protesta a la propuesta": The institutionalization of the Women's Movement in Chile. In: DORE, Elisabeth (Org.). Gender Politics in Latin America: Debates in Theory and Practice. New York: Monthly Review Press, 1997. p. 84- 100.
MATTELART, Michèle. Chili: le coup d'État au féminin. Quand les femmes de la bourgeoisie descen dent dans la rue. In: MACCIOCCHI, Maria A., (org.). Les femmes et leurs maîtres. Paris: Christian Bourgeois, 1978, p. 219-253.
MELLIBOVSKY, Matilde. Circle of Love over Death. Testimonies of the Mothers of the Plaza de Mayo. Willimantic: Curbstonne Press, 1997.
Nunca Más. Disponível em: http://www.desaparecidos.org/arg/conadep/nuncamas/ Acesso em: 18 out. 2021.
RELATÓRIO do Prefeito. Primeira quinzena de dezembro de 1944. Disponível em: Arch. dép. du Finistère 43 W 169.
SARNER, Eric. Mères et « folles » sur la place de Mai: Argentine 1976-2000. Paris: Édition Desclée de Brouwer, 2000.
SCHWARTZ, Paula. Partisanes and Gender Politics in Vichy France. French Historical Studies, Carolina do Norte, v. 16, n. 1, p. 126-151, 1989.
SCHWARTZ, Paula. La répression des femmes communistes. Les Cahiers de l'IHTP, Paris, n. 31, p. 25-37, 1995.
SCHWARTZ, Paula. The politic of food and gender in Occupied France. Modern & Contemporary France, Londres, v. 7, n. 1, p. 35-45, 1999.
SEMELIN, Jacques. Sans armes face à Hitler: La résistance civile en Europe 1939-1943. Paris: Payot, 1989.
SEMELIN, Jacques. La résistance civile des femmes: le cas de la manifestation de Berlin. In: Anais do Colloque Paroles de femmes pour la paix, Le Mans, Pré-actes , 6 e 7 mar. 1999. p. 67-74.
SPEER, Albert. Au cœur du troisième Reich. Paris: Fayard, 1971.
STOLTZFUS, Nathan. Intermarriage and the Rosenstrasse protest in nazi Germany. New York: Norton & Company, 1996.
TARTAKOWSKY, Danielle. Manifester pour le pain, novembre 1940-octobre 1947. In: VEILLON, Dominique; FLONNEAU, Jean-Marie, (org.). Le temps des restrictions en France (1939-1949). Les Cahiers de l'IHTP, Paris, n. 32-33, p. 465-478, 1996.
TARTAKOWSKY, Danielle. Les manifestations de rue en France, 1918-1968. Paris: Publications de la Sorbonne, 1998.
TILLY, Charles. La France conteste de 1600 à nos jours. Paris: Fayard, 1986.
UNION DES FEMMES FRANÇAISES. Les femmes dans la Résistance: colloque des 22-23 novembre 1975. Paris: Éditions Du Rocher, 1977.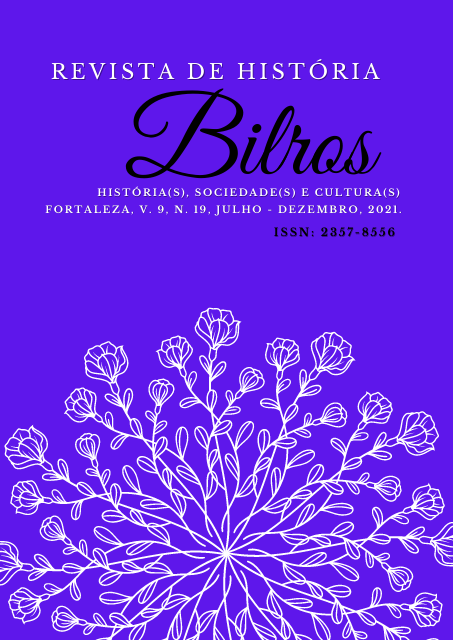 Como Citar
CAPDEVILA, L. .; ROCHA, S. R. S. .; PEDRO, J. M. . RESISTÊNCIA CIVIL E JOGOS DE GÊNERO. FRANÇA-ALEMANHA-BOLÍVIA-ARGENTINA. (SEGUNDA GUERRA MUNDIAL - ANOS 1970-1980). Revista de História Bilros: História(s), Sociedade(s) e Cultura(s), [S. l.], v. 9, n. 19, p. 160–191, 2022. Disponível em: https://revistas.uece.br/index.php/bilros/article/view/8203. Acesso em: 16 maio. 2022.
Licença
Copyright (c) 2022 Luc Capdevila; Sofia Rocco Stainsack Rocha, Joana Maria Pedro
Este trabalho está licenciado sob uma licença Creative Commons Attribution-NonCommercial 4.0 International License.